About the Museum
The museum contains holdings of 8000 ethnographic artefacts of textile, agricultural tools and objects of everyday life in Istrian villages from the end of the XIX and beginning of the XX century (pottery, carpentry, blacksmith objects and objects of traditional handicrafts). There is also a large collection of souvenirs. In the ground floor of the castle, is where the carpenters and blacksmiths workshop is. You can see different tools, blacksmiths furnace and many objects in blacksmith workshop.
On the second floor there are, besides rooms with permanent exhibition, room for the periodical exhibitions. The permanent exhibition offers a look at the Croatian traditional clothes of the all regions of Istria and traditional clothes from city of Peroj (traditional clothes of people that came from Crmnička Nahija in Montenegro) and city of Vodnjan (Italian women traditional clothes). You can also see traditional cuisine with fireplace, inventory and dishes, objects of traditional farmng with agricultural tools and objects connected with production of vine and oil in Istria.
Our goal in future is to methodically collect ethnographic artefacts from rural and urban environments. We are also interested in modern cultural phenomenon. Our research themes are everyday life, clothing, rural farming, children's games, music, traditional food, believes, habitation, oral history, multiculturalism…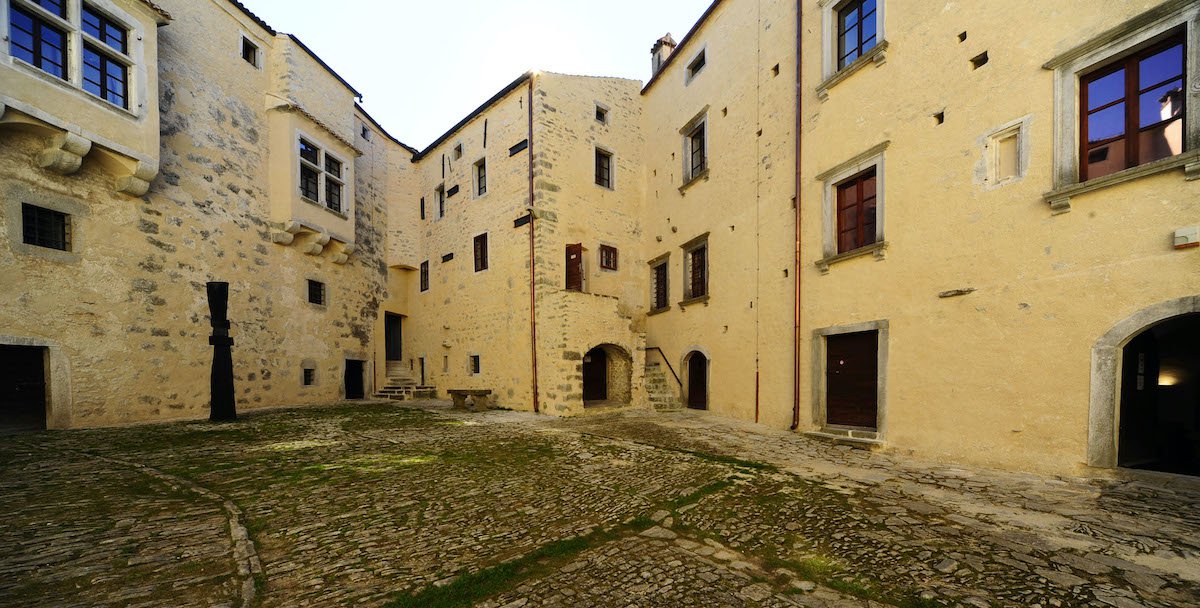 History of the Museum
Castle in Pazin, medieval fort, is located above abyss called Pazin pit. It was built in a shape of irregular parallelogram that borders spacey inside courtyard. The first mention of the castle is in 983. in the document by which Otton II confirmed donation of land to Poreč bishop. In the middle of XII century castle was donated to Meihard. In the end of the XII century, through marriage, castle is in hands of counts of Gorica until 1373. when the Habsburg family took possession of the castle through inheritance.
The fort was badly damaged in the war with Venice (1508-1516), and in 1533. is in hands of A. Masconi who improved housing and defense conditions. In 1639. the second floor also known as the Hall of the Knights was built in the St. Wirgin Mary chapel with wooden altar. The Italian family Montecuccoli from Modena bought principality of Pazin in 1766. and kept it until 1945. Besides defense function, in its long history, the castle was also the center of the government and it was used for living and for public purposes. For a period of time, it was a prison, and during war times, it was a place for locals to hid. After World War II, the castle has served as museum-exhibition hall. And in 1962. the castle became site of the Ethnographic Museum of Istria.