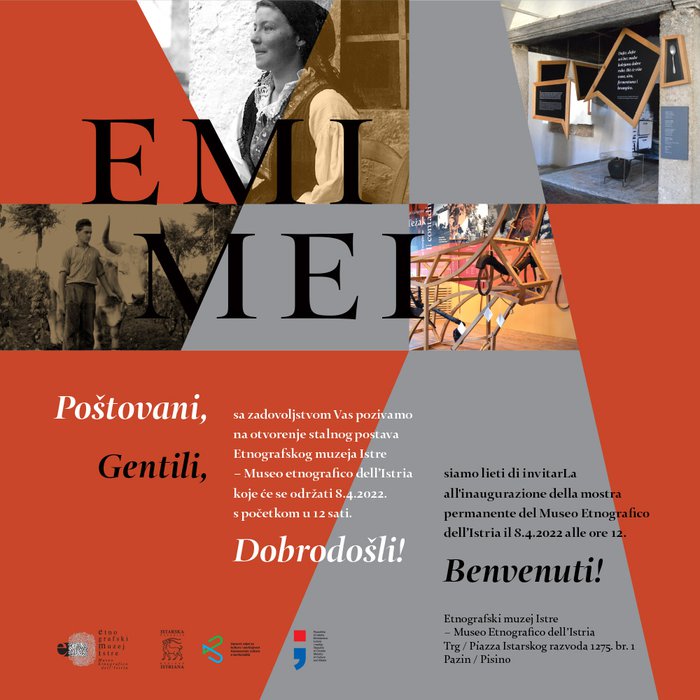 New permanent exhibition
Permanent exhibition opening
---
On Friday, April 8, 2022, at 12:00, the second part of the permanent exhibition of the Ethnographic Museum of Istria opens, which completes one of the most comprehensive investments that this institution has made in the last quarter of a century.
The process was lengthy; it included new research on the territory of Istria from the Momjan region in the northwest, Ćićarija in the northeast, Raša and Labin in the east, the west coast and the Žminj region as it's central artery. In addition to field research that became the basis of the museological concept, the process of working on a permanent exhibition included interdisciplinary cooperation with experts in the humanities and creative industries, and the development of museological theory and practice. The approach to the heterogeneous cultural and social realities of Istria, which the curators of EMI-MEI have applied to the new permanent exhibition, follows or even paves the way for new trends that turn to interactive, participatory, accessible and holistic interpretations. We have interpreted the multiculturalism of Istria through its micro-environments and specific human destinies.
Visit the museum every day except Monday from 10 am to 6 pm.

Welcome!
The originator of the new permanent exhibition is dr. Lidija Nikočević, long-time director of EMI / MEI and the authors are former and current EMI / MEI employees: Robert Bilić, Boris Koroman, Tajana Ujčić, Mirjana Margetić, Tanja Kocković Zaborski, Olga Orlić, Mario Buletić, Ivona Orlić, Dragan Dimovski, Lidija Nikočević and Tamara Nikolić Đerić, who is also the project manager in the second phase. The art exhibition is signed by Studio Cuculić and Clinica d.o.o., the architecture by Kapitel d.o.o., and the multimedia by Novena d.o.o. and AVC d.o.o.
Galerija fotografija